New DVD Release!
Carl Roa Extreme Guitar Workout DVD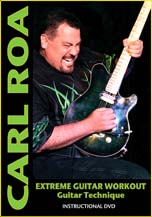 Carl Roa, acclaimed progressive / hard rock guitarist of the band MAGIC ELF, leads you through a comprehensive technical guitar workout, sure to challenge players of all levels.
In this action-packed DVD, you'll find sections on Alternate, Hybrid and Sweep Picking, String Skipping, Legato Playing, Major and Pentatonic Sequences, Arpeggios and more. This program will arm the progressive / hard rock / fusion guitarist with the killer skills necessary to stay on top. Also includes great warm-ups, exciting song performances and an informative gear section.
New CD Release!
Lord of the Strings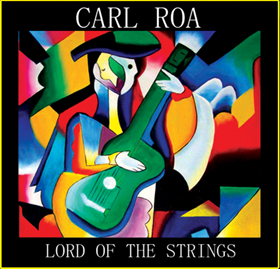 Click here for Audio samples!

Super intense instrumental / progressive / hard-rock by Carl Roa of MAGIC ELF, featuring guest artists:
TONY ROMBOLA of GODSMACK
MICHAEL ANGELO BATIO
ANDY WOOD
JEFF BABKO
TRAVIS LARSON
MAGIC ELF
NEW - CR60 Carl Roa Amp Model from RockNRoll amps!
Elf Riffs - Video Lessons online at Guitar World!



CLICK HERE TO DOWNLOAD PDF's FOR THE ELF RIFF LESSONS
New Carl Roa album "Lord Of The Strings" is complete!
Purchase the CD at Big Shoe Music or download at iTunes
NEW RocknRoll CR60 amp!
RockNRollamps.com has just released the new CR60 - Carl Roa Model amp! This all tube 60 watt head is light and small, but packs a serious punch! Read all about it on the RockNRoll Amps page
Eventide Endorsement
I am now endorsing Eventide! Got my hands and ears on the Eventide Timefactor, and there's no looking back now. Incredible sounds from the leader in signal processing! For more info check out my Eventide page.
Ernie Ball / Music Man Endorsement
I am now endorsing Ernie Ball / Music Man! Will be playing the John Petrucci BFR 7 string guitar in black burst. And I am using Ernie Ball strings exclusively now! For more info check out my Ernie Ball / Music Man page.
Red Bear Picks Endorsement
I am now endorsing Red Bear picks! Recently discovered these awesome picks on a friends recommendation ... and what a find! The search for the ultimate pick is now over. :) These picks are as close to real Tortoise shell as it gets, and they last forever. For more info, check out my Red Bear page.
Carl finishes mixing and mastering on the new Rick Graham album "Insideout"!
Rick is a fellow Suhr guitar endorsee and a phenomenal guitarist! He dispays great versatility on this release ... from high tech electric solos to classical guitar masterpieces! The album is available from Steve Vai's Digital Nations, and also direct from Ricks website. Check it out here!
Carl finishes mixing and mastering on the new Mike Bauer's album "My Own World"!
Mike is an awesome guitar player, and I really enjoyed working with him on his first solo release. Great phrasing, chops and plenty of soul! Mike's band is top notch across the board. Please check it out at CD Baby. Mike Bauer - "My Own World"
Carl's CD's
Reviews
Ass-kickingly ferocious jazz fusion/progressive hard rock... Roa is an extremely formidable player.

- Guitar World
Carl Roa's playing on the new CD is phenomenal! Great work man!

- John Petrucci of Dream Theater
Hot all-instrumental progressive...prolific chops

- Progression Magazine